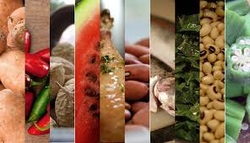 "Making Real Time for Soul Food"
During the upcoming holidays, there will be a lot of good cooking with delectable dishes being served that taste so good, we often refer to it as "soul food." It may be good down to the soul, but true soul food can only come from the Word of God.
The Apostle James has prepared some meaty truths for our soul to thrive on and strengthen our walk with God. Why not gain a few pounds in your soul with spiritual food prepared by James. Here are some important spiritual truths to learn and share with others from the
Book of James
that blessed my soul:
When faced with a trial, your attitude determines altitude in overcoming the problem. Focus on rejoicing in the work God is accomplishing in you more than fearing the outcome of threatening circumstances. James 1:2
When you feel trapped in a trial, rather than ask others for their opinion and risk being confused, ask God for His wisdom that works without fail. Each time God delivers the wisdom you requested, it makes you less dependent on yourself and others, and more reliant on your God. James 1:5
A believer who is from a depressed neighborhood background can rejoice immediately that their genuine walk with God will raise him/her to greater heights in their natural and spiritual life. James 1:9
A believer who can be viewed as rich should rejoice in his/her humility of not being changed by his/her money as well as dodging the trap of trying to take the money to the grave. (This is contrast to lottery winners who at some point are apt to experience ruin and busted family relationships.) James 1:10
Going to Church and living your life with a loose tongue makes going to Church in vain for you. James 1:26
Real Church ministry is not attending meetings, events and dinners but it begins with a focus for meeting needs of the fatherless and the husbandless. James 1:27
It is a sin for members of the Church in worship to show favoritism to wealthy looking visitors and mistreat those who looked disadvantaged. (We must be willing to give up our seat for Joe six-pack with HIV/AIDS and who abused drugs as much as we would for Oprah.) James 2:2
If we say we have faith and our actions do not line up, then our faith is dead. Believing in God alone without the life to match it is not enough. Even demons take the first step and believe – and then they tremble. James 2:14-19
A loose tongue can cause a world of trouble and lead to unspeakable evil. No person can tame another person's loose tongue. No one in the Church family should have a tongue that is tamed at one time and loose at another. James 3:3-9
Conflict among members of the Church is created due to worldly interests that penetrate within the heart. These carnal interests grow because God is not trusted to provide for the lack in their lives. Spiritual adultery occurs when too much attention is given to carnal people and worldly environments. Maintaining worldly friendships and carnal interests makes a member of the Church an enemy of God. James 4:1-4

Never take God for granted that tomorrow is owed to you. Remember your mortality and daily vulnerability to death when planning ahead and respectfully acknowledge: "If the Lord wills…" James 4:15
Those with money who live at the expense and in cynicism of those who don't have money, are guaranteed to decline in misery. James 5:5
Do not swear (give allegiance) or take oaths in place of keeping your word to God and man. Dreadful surprises will lurk otherwise. James 5:12
The prayers of wishful thinking are useless. The prayer of faith brings results. Members who are sick have the privilege to believe God to be healed and call for intercessory prayer by the Church elders. Members with faults are not to suppress them. Faults should be confessed and prayed for fervently by other members who are righteous. Healing and breakthrough shall result. James 5: 13-16
Members of the Church wander from the truth and fall into living a lie which leads to death. The steadfast Church is challenged to restore the souls of in-house sinners from death and back to the truth of the Word. The multitude of all past sins of a rescued person are paid for and covered by the Blood of Jesus. James 5:20
If reading these scriptural truths was a blessing to you, then share them with others. As we make plans for family and special meals, why not do the same for our soul? Let's make time for our soul to be fed with the Word of God on a regular basis. It is absolutely the only soul you and I will ever have.
Bless you,
Pastor Tyler